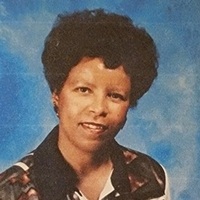 Angela C. Ledbetter
April 27, 1955 - January 19, 2023
Angela C. Ledbetter entered into eternal rest on Thursday, January 19, 2023 at the Accordius Health at Nansemond Pointe Health Care Center, Suffolk, VA.
Angela was born on April 27, 1955 to the late William H. Ledbetter and Margie H. Ledbetter of Whaleyville, Virginia. She graduated from John F. Kennedy High School in 1973 and received a Bachelor's degree in Clothing Technology from Norfolk State University in 1977.
Angie, as she was affectionately known, worked as a Teacher's Aid for the Suffolk Public School system (Kilby Shores Elementary) for 25 years until she retired in 2002 due to poor health. Angie always had such a passion for children as was evident in her patience with teaching. She also spent some of her spare time as a seamstress, quite often making various outfits for herself and others.
Angela was a lifelong member of Mineral Spring Baptist Church where she was faithfully and lovingly served until she could no longer carry out her many duties. Her church activities included: Superintendent of the Mineral Spring Baptist Church Sunday School; teacher for Vacation Bible School; member of the Usher Board and Junior Choir; as well as a volunteer for various church activities. Additionally, Angela served as a Delegate and Officer for Nansemond-Isle of Wight Sunday School Union and was a Representative for The Baptist Sunday School & BTU Congress of Virginia.
Angela is survived by her mother, Margie H. Ledbetter; her brother, U.S. Army Retired Lieutenant Colonel William Ledbetter (Tammi); nephew, U.S. Navy Musician First Class William Sheldon Ledbetter, Aunts, Uncles, Cousins, Mineral Spring Church family, Nansemond Pointe family and a host of other family members and friends.
A public viewing will be held 2:00-7:00pm, Thursday, January 26, 2023 in the Melvin J. Blowe Chapel of Crocker Funeral Home, Inc. The family will be receiving friends and guests from 5:00-7:00pm at the funeral home. A graveside will be held 12 Noon, Saturday, January 28, 2023 in the Langston Cemetery, 5182 Whaleyville Blvd, Suffolk, VA 23438. Pastor Alan Hunt will be delivering the message of comfort. Professional services with dignity have been entrusted to Crocker Funeral Home, Inc.
Services
Viewing
Thursday, January 26, 2023
2:00 PM - 7:00 PM
Melvin J. Blowe Chapel of Crocker Funeral Home, Inc.
900 East Washington Street
Suffolk, VA 23434
Get Directions on Google Maps
Friends & Family Gathering
Thursday, January 26, 2023
5:00 PM - 7:00 PM
Melvin J. Blowe Chapel of Crocker Funeral Home, Inc.
900 East Washington Street
Suffolk, VA 23434
Get Directions on Google Maps
Graveside Service
Saturday, January 28, 2023
12:00 PM - 1:00 PM
Langston Cemetery
5182 Whaleyville Blvd
Suffolk, VA 23438
Get Directions on Google Maps
Share this obituary