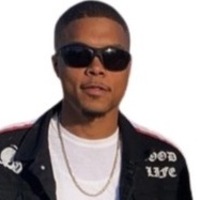 Caleb "Cee" Jovan Pittman
April 8, 1992 - September 4, 2022
Caleb Jovan Pittman, 30, affectionately known as "Cee" and "Shorty Big Head" transitioned on Sunday, September 4th, 2022. He was born on April 8th, 1992 in Suffolk, Va to Annette Faulk and Donald Pittman.
Caleb graduated from Kings Fork High School in 2012 and was a member of the Be Fight Free program. His work ethic was unmatched and he found love in working hands on in various roles such as machine operations, fence and awning construction, & granite construction. His most recent work pursuit was in obtaining his CDL's.
He took a lot of pride in his work because he took pride in being able to provide for himself and his daughters. To him working hard was the only way to achieve his goals.
He always had time for his family and friends - a definite go to. Having fun and laughing was important to him and he often said, "If you gonna cry what the baby gonna do?" That was his spirit. Don't come around down because he made it his mission to bother you until you're at least smiling. He was the light in any room he entered and he cherished that. Most of all he loved making his girls happy. Very seldom they heard a "no". Park dates, Chic-Fil-A dates, and being a Dance Dad were just a few of the things he made sure he remained present in. Never missing a beat when it comes to them, their mother included.
He enjoyed all things sports but preferred The Baltimore Ravens and LeBron James. Wherever Bron went, Cee went. He loved music, playing 2k against friends and family, and he even wrote poetry from time to time.
Caleb leaves behind to cherish his parents Annette & Corey Faulk; Donald Pittman; Grandparents: Betty & George Savage; Jeanette Hill; Special Grandmother: Shelia Deloatch; Daughters: Caleigh & NaLea Pittman; Brothers: Veldon Griffin, Kendall Pittman, Kavion Johnson, Khyliel Johnson, Kentrell Harris; Jamonte Boykins; Sisters: Danyel Bookan, Arryan Faulk, Jasmine Harris, Deondria Coles; Godsister: Zamya Cosby, A host of aunts and uncles; His beloved: TahJahnek Deloatch; and a grand host of special friends who were more of family; too many to name but you all know exactly who you are.
Caleb was preceded in death by his Grandmothers: Laura Sanchez; Lille Mae Harris and his Grandfather: James Johnson.
A viewing will be held 4-7 p.m. Monday, September 12, 2022 in the Melvin J. Blowe Chapel. A celebration of life will be held 1:00 p.m. Tuesday, September 13, 2022 at Balm Church East Campus. He will be laid to rest in Nansemond-Suffolk Cemetery. Professional services with dignity have been entrusted to Crocker Funeral Home, Inc.
To send a flower arrangement or to plant trees in memory of Caleb "Cee" Jovan Pittman, please click here to visit our Sympathy Store.
Share this obituary