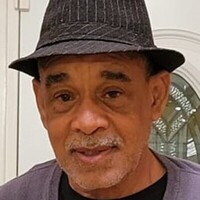 Christopher Holland
January 19, 1955 - August 24, 2022
Christopher Cornell Holland born, January 19, 1955 in Suffolk, Virginia went home to be with the Lord on August 24, 2022 at the age of 67. He was the son of the late Rufus Holland and Margaret C. Holland. Christopher was preceded in death by two sisters, Betty A. Everett and Catherine E. Baker. He attended John Yeates High School and he was a member of First Baptist Church Mahan.
He was employed at Obici Hospital, Doughtie's Barbecue, and Brown & Jordan. Also, he was a member of the Odd Fellows Lodge for many years where he served as president of lodge #1495. He was a business owner and the proprietor of C.C. Trucking Company for several years.
Christopher leaves to cherish his memory; one son, Christopher Calvi Sr. (Renee) of Baltimore, Maryland; one daughter, Erica Calvi-Oliver (Karriem) of Baltimore, Maryland; one brother, Calvin S. Holland (Dell) of Suffolk, Virginia; one sister, Barbara Jean Blanchard of Portsmouth, Virginia; four grandchildren, Timera Calvi, Christopher Calvi Jr., Keyo Allen, Parish Calvi of Baltimore, Maryland; two great grandchildren, Isaiah Greeley and Kayle Calvi of Baltimore, Maryland; a devoted niece and nephew-in-law, Bonita Holland Lester (Frank) of Kathleen, Georgia, a dedicated nephew, Calvin R. Holland (Faye) of Suffolk, Virginia, and a host of nieces, nephews, cousins, other family and friends.
A public viewing will be held 5-7 p.m. Friday, September 2, 2022 in the Melvin J. Blowe Chapel of Crocker Funeral Home, Inc. A celebration of life will be held 11:00am, Saturday, September 3, 2022 at First Baptist Church 112 Mahan Street, Suffolk, VA. He will be laid to rest in Carver Memorial Cemetery. Professional services with dignity have been entrusted to Crocker Funeral Home, Inc.
To send a flower arrangement or to plant trees in memory of Christopher Holland, please click here to visit our Sympathy Store.
Share this obituary