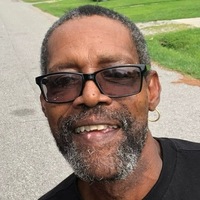 Curtis Mckinley Jones, Sr.
December 10, 1954 - October 6, 2022
Curtis McKinley Jones, Sr. was born on December 10, 1954, in what was then Nansemond County, Virginia. He was the second of three children born to the late Moses McKinley and Annie Ruth Jones. He was called from his labor to rest on Thursday, October 6, 2022. Curtis was preceded in death by his loving parents and sister, Connie Marie Smith.
Known to his family and friends as Curt, he was educated in the Suffolk City Public Schools and graduated from John F. Kennedy High School in 1973. Curt worked as a forklift driver at Planters and the Norfolk Naval Base. He served in the United States Navy as an aircraft mechanic. While in the Navy, he had the opportunity to travel to Africa, Spain, Australia, and other foreign lands. Later in life Curt enjoyed driving long distance trucks, which allowed him to see different states in the US.
Curt had a true passion and love for music. He had a God given talent for singing, song writing, and playing musical instruments. He never had formal musical training; but taught himself to play the drums, guitar, and piano. He had a beautiful voice and sang in several secular and gospel groups in Suffolk and surrounding areas. One of the groups Curt sang with was New Life. He wrote and sang the lead vocals on the single "I Never Felt This Way Before", the group recorded the single along with a second single, "New Life Is Out to Get You".
Curt had a great sense of humor, a warm smile, and infectious laugh. He enjoyed cooking, eating, watching old Western TV shows, and spending time with family and friends.
Curt leaves to cherish his memory and celebrate his life, son, Curtis McKinley Jones, Jr. and his wife, Tiphanie, grandchildren, Nadia, Curtis, Olivia, and Nola; son, Kevin Denell Jones, grandchildren, Dre'Shawn, Rickiya, and Kenedi, and daughter, Shayron Lynell Jones, grandchildren Heaven and Ty'Anna, sister, Donna M. Johnson and his brother-in-law, James M. Johnson, nieces, Tasha S. Manley and Kayla M. Johnson, great nephews, Kyan Manley and Xavier Manley, aunts, Grace Bonner, Charlotte Bonner, Stella Sanders, and Ruby Sears, uncle, Albert "Pete" Sears, and fourteen first cousins, Curt will be especially missed by his close friends and second family of Cathy (the late "Skip") Williams. A host of family and friends will always remember Curtis fondly.
For God so love the world, that He gave his only begotten Son that whosoever believeth in Him should not perish but have everlasting life. John 3:16 KJV
A public viewing will be held 3:00-7:00pm, Thursday, October 13, 2022 in the Melvin J. Blowe Chapel. A celebration of life will be held 1:00 p.m. Friday, October 14, 2022 in the Melvin J. Blowe Chapel of Crocker Funeral Home, Inc. The service will be livestreamed via Crocker Funeral Home, Inc. Facebook Page. Professional services with dignity have been entrusted to Crocker Funeral Home, Inc.
To send a flower arrangement or to plant trees in memory of Curtis Mckinley Jones, Sr., please click here to visit our Sympathy Store.
Share this obituary