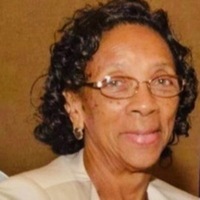 Della Mae Richardson
January 19, 1944 - November 24, 2022
On November 24, 2022, angels were dispatched to Suffolk (Buckhorn) Virginia to usher in a servant, our beloved Della Mae Holliman Richardson. With her loving and devoted family by her side, she peacefully entered eternal rest at her residence. She was 78 years old and the daughter of the late Nonnie A. Holliman and Theresa Scott Holliman. She was preceded in death by her late husband Arthur (Dickie) Richardson (DOD: July 22, 2022), grandson; Jonathan Spratley, sisters; Gladys Harris, Dorothy Harrell and brothers; Clayton (Sylvester) Holliman and Robert Newby.
Della was a member of Piney Grove Baptist Church where she was a former Children's Sunday School teacher, Asst. Youth Director, Vacation Bible School Teacher and a member of the Missionary Ministry. She retired from Suffolk Public Schools after 20 years of dedicated and loyal service.
She leaves to cherish her memory three children, Nathan Mckinley Richardson and Permilla Spratley (Michael) of Suffolk, VA and Alvonda Savage (Carl) of Glenn Allen, VA. One bonus son Brian Holliman (Natalie) of Suffolk, Virginia. Six grandchildren, James Spratley, Jade Richardson, Jason Spratley, Marlon Richardson, Justin Savage and Marlisa Artis. Two bonus grandchildren, Janelle and Joshua Spratley. Seven great-grandchildren, Ayania, Kahlil, Kai, Jamarcus, Kaylon, Kae'cion and Jahsir. One godson, Reginald Holliman, Jr. (Tinera). A special Buckhorn Community daughter Shirron Edwards. Three sisters, Mary Harvey, Willie Watts and Denise Sherrod (Bernell). Six brothers, Lorenzo Holliman (Vicky), Ronald Holliman, Herman Holliman, Reginald Holliman, Sr. (Patricia), James Holliman (Marlene) and Michael Holliman (Gail). Two sisters-in-law; Mamie Griffin and Francis Smith. Other nieces, nephews, cousins and friends.
A viewing will be held 1-7 p.m. Wednesday, November 30, 2022 in the Melvin J. Blowe Chapel of Crocker Funeral Home. A celebration of life will be held noon, Thursday, December 1, 2022 in Piney Grove Baptist Church. She will be laid to rest in the church cemetery. Visitation will be held at the home of Rev. Michael and Permilla Sprately (daughter) from 4p.m. to 8 p.m. 3828 Pruden Blvd, Suffolk, Virginia 23434.
Services
Viewing
Thursday, February 2, 2023
1:00 PM - 7:00 PM
Crocker Funeral Home
900 East Washington Street
Suffolk, VA 23434
Get Directions on Google Maps
Celebration of Life
Thursday, December 1, 2022
12:00 PM - 1:00 PM
Piney Grove Baptist Church (Buckhorn)
4901 Deer Path Road
Suffolk, Virginia 23434
Get Directions on Google Maps
Interment
Thursday, December 1, 2022

Piney Grove Baptist Church (Buckhorn)
4901 Deer Path Road
Suffolk, Virginia 23434
Get Directions on Google Maps
Share this obituary