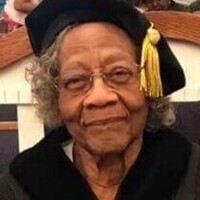 Elder Dr. Catherine Baker-Skinner
February 18, 1933 - January 13, 2023
On Friday, January 13, 2023 Pastor, Dr. Catherine Baker Skinner was lifted to her eternal reward.
Pastor Catherine Baker Skinner was born on February 18, 1933 in Suffolk, VA to the late William and Virginia Baker. She obtained her education in the Suffolk public school system. She was married to the late Deacon James L. Skinner, Sr. for 68 years. Out of this union, they had 7 children. She attended Louise Obici Memorial school of Nursing and obtained her certificate as a Licensed Practical Nurse in 1984.
Pastor Skinner left full-time employment as a Licensed Practical Nurse in 1984 and began full-time Ministry in God's army at New Paul's Temple Holiness Church of Deliverance. She served in many capacities including: custodian, teacher of adult Bible school class, President of the Missionary Circle, Church Mother, Assistant Pastor, Pastor, and Pastor Emeritus.
She was an active member of the Lake Kennedy Estates Civic League, Orlando Civic League, and Booker T. Washington Alumni. Pastor Skinner was actively involved in the Orlando community, where the church is located, and where she lived for more than 30 years.
Pastor Skinner has received many awards and acknowledgements in the community for her service to ministry. Dr. Skinner awards included a religious service award by the East Suffolk Federated Civic League Dr. Skinner also attended Life Changing Ministries Bible Studies. She also received an award for the longest serving female Pastor in the City of Suffolk presented by the Suffolk Ministerial Alliance in 2016. In 2017, Pastor Skinner was presented an Honorary Doctor Degree by New Mt. Joy W. P. Wiggins School of Theology.
She was preceded in death by her husband, James L. Skinner, Sr. Sons, Austin Skinner and James Skinner, Jr.; sisters: Alice Boone and Gladys Parker; and grandson Kashean Owens. She leaves to cherish her memory five children: two sons, Elton Skinner (Shirley) of Suffolk, VA; Tony Skinner (Erion) of Albuquerque, NM; three daughters; Juanita Skinner, and Pamela Skinner of Suffolk, VA and Marvella Skinner of Ferris, TX; two grandchildren raised as daughters: Cassandra Williams and Shameca Golden (Demetrius); one sister, Alma Wright of Suffolk, VA; twenty-five grandchildren; sixty-six great grandchildren; and sixteen great- great -grandchildren; three goddaughters: Bridgette Smith, Dora Brown and Lula Gibbons; two dedicated daughters in Christ, and a host of nephews, nieces, cousins and friends.
A viewing will be held 2-5 p.m. Friday January 20, 2023 at New Pauls Temple Holiness Church followed by a wake at 5 p.m. A celebration of life of life will be held 1:00 p.m. Saturday, January 21, 2023 at New Pauls Temple Holiness Church. She will be entombed at Carver Memorial Cemetery. Professional services with dignity have been entrusted to Crocker Funeral Home, Inc.
Services
Viewing
Friday, January 20, 2023
2:00 PM - 5:00 PM
New Paul's Temple Holiness Church of Deliverance
720 Hosier Road
Suffolk, VA 23434
Get Directions on Google Maps
Mausoleum Entombment
Saturday, January 21, 2023

Carver Memorial Cemetery
2320 East Washington Street
Suffolk, Virginia 23434
Get Directions on Google Maps
Wake
Friday, January 20, 2023
5:00 PM - 7:00 PM
New Paul's Temple Holiness Church of Deliverance
720 Hosier Road
Suffolk, VA 23434
Get Directions on Google Maps
Celebration of Life
Saturday, January 21, 2023
1:00 PM - 2:00 PM
New Paul's Temple Holiness Church of Deliverance
720 Hosier Road
Suffolk, VA 23434
Get Directions on Google Maps
Share this obituary