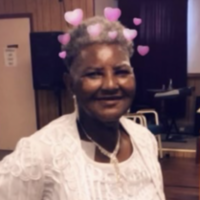 Emma Table
December 26, 1946 - October 13, 2022
Emma Table was born to the late Andrew and Odell (Edward) Swann on Dec 26, 1946 in Ivor, Virginia.
Emma was educated through the Virginia school System. She later moved to Paterson, N.J. where she worked a s homemaker while she put herself through school to become a Certified Nursing Assistant and also worked nights to take care of her family. Emma had a huge heart. She had a passion for caring for others. Her front door was open to whoever needed a place to stay including some of her clients that she gracefully took care of in her home.
Emma faithfully served God, she was a true believer of Christ Jesus. She also loved two write poems, cook, read to her grandchildren and dance. She was filled with fire, she was fierce. A true mother, sister, grandmother, friend, and teacher. She was one of a kind.
Emma Table was preceded in death by her late parents, Andrew and Odell (Edwards) Swann, her late husband, William Henry Table; brothers, Richard Swann and Rev. John I. Swann, Sr.
Emma leaves to cherish her memories six children, Leaca D. (Table) Clary (Husband Wayne Clary), Francine Lott (Friend Michael) all of Spring Grove, VA, Ann (Table) Jones (Husband Eric Jones) of Waterboro, CT, Jannette Table, James Table and Sheila Table (friend Taleitha (Lisa) all of Hampton, VA; she leaves her pride and joy nine grandchildren; one Princess Rose Parks; eights soldiers, Lewis, Gregory, Malcom, Marshodd, Rahshodd, Tahshodd, Jahlil, and Kahlil; 13 greatgrandchildren; two sisters, Mary lou Sumblin of Portsmouth, VA and Martha Smith of Greensboro, N.C.; one brother, Charles Swann of Spring Grove, VA; two sisters-in-law, Johnnie Mae Swann of Newport News, and Mary (Swann) Williams of N.C. two best friends, Deloris Ross and Lucille Turner; A host of nieces, nephews, cousins and friends.
To send a flower arrangement or to plant trees in memory of Emma Table, please click here to visit our Sympathy Store.
Share this obituary