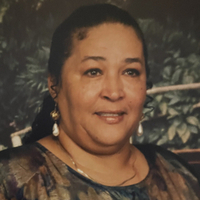 Fannie Mae Goodman
September 11, 1941 - January 19, 2023
"A wife, mother, sister, grandma and great grandma". This is the legacy we have for Fannie Mae Goodman. God called another one of his Angels to receive their wings. Fannie Mae Goodman, 81, of Newport News, Va., transitioned peacefully on Thursday, January 19, 2023 at her home, surrounded by her love ones.
Born on September 11, 1941 in Pulaski, VA, to the late Myrtle Ednae Crouse and Roosevelt John Crouse. Fannie was the fourth child of eight children (Jimmy, Helen, Freddie, Brenda (four deceased) and she is survived by three siblings, Vernice, Bobby and Dorrest. Fannie was preceded in death by her first husband, Manfred Woody and later married the love of her life, Samuel E. Goodman for forty-seven years. She met her "Sam" while visiting her sister Helen at MacDill AirForce Base in Tampa, Florida. Shortly afterwards they fell in love, and the rest is history. Sam, "our Pops", has been a devoted and loving husband, through sickness and in health. He was truly her "Good Man"
During her adult years, Fannie was a nurse and worked in the Retail Industry. However Fannie's most treasured moments was spending time with her family. A devoted wife and mother, she especially enjoyed the holidays. As a mom, according to her children, "Mom always made every holiday a family focused occasion. Our mother loved to cook and loved watching everyone enjoy their food and fellowship with each other".
Those left to rejoice in her memory are daughters, Sylvia Woody Rose (Donovan) of Yorktown, VA, Brenda Renee Brown (Julian) of Fayetteville, NC and sons, Manfred Woody (deceased) and Jerome Milton Woody of Newport News, VA; seven grandchildren, Kimber Lee Howard, Deja Rose Darrington (Brandon), Malcom Lee Chester, Donovan J. Rose, Jr., Jerome Milton Woody, Jr., Amber Lestancia Woody and Samaia Kay Chester. Two great-grandchildren, Alexandra Darrington and Kaliyah Massey; two sisters-in-law, Mary Jordan and Virginia Rollins (Frank) of Columbus, Ohio; brother-in-law, Rev. Roland L. Goodman (Vivian) of Wichita, Kansas and a host of nieces, nephews and other special relatives and friends.
Fannie Mae Goodman will be remembered for her love of family and God. She met life's challenges with poise and an unwavering faith in God. How blessed are those of us who were able to know her intimately . How blessed are we to have known and loved Fannie Mae Goodman. We will miss her dearly.
A viewing will be held from 2-7 p.m. Friday, January 27, 2023 in the Melvin J. Blowe Chapel. A celebration of life will be held at 1:00 p.m. Saturday, January 28, 2023 at Antioch U.C.C. Rev. Jarvis Jones will deliver the message of comfort. She will be laid to rest in Albert G. Horton, Jr. Memorial Veterans Cemetery. Professional services with dignity have been entrusted to Crocker Funeral Home, Inc.
Services
Viewing
Friday, January 27, 2023
2:00 PM - 7:00 PM
Melvin J. Blowe Chapel of Crocker Funeral Home, Inc.
900 East Washington Street
Suffolk, VA 23434
Get Directions on Google Maps
Graveside Service
Tuesday, February 28, 2023
10:00 AM - 11:00 AM
Albert G. Horton, Jr. Memorial Veterans Cemetery
5310 Milners Road
Suffolk, Virginia
Get Directions on Google Maps
Share this obituary