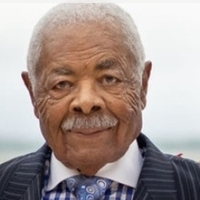 Floyd Ricks, Sr.
March 3, 1927 - February 8, 2023
Mr. Floyd A. Ricks, Sr. went home to be with his Heavenly Father on February 8, 2023.
He was born to Dorothy M. Porter Ricks and Alivia "Buster" Ricks on March 3, 1927, in Windsor, VA. After the death of his mother at a young age, he and his brother Lloyd was raised by their maternal grandparents, Jesse and Elle Porter and his aunts. He was educated in the Windsor Public School System.
Years later, he fell in love and married Elsie M. Knight. They were married in November, 1949. From that marriage, 3 children were born, Veronica Marie and twins, Flora Mae and Floyd Jr.
Floyd worked as a long distance truck driver for Smithfield Packing Company for over 40 years. While driving for Smithfield Packing, he accumulated over 2 million driving miles. He retired in February 1997.
One of his favorite things to do was to watch wrestling matches on TV during the week and watch the Atlanta Braves or the Cincinnati Reds baseball games. Whenever he could, he would attend the Atlanta Braves season opening games. Floyd was the last living member of the local negro baseball league. During the time he played, during his younger years, black baseball players were not allowed to play with white players.
Floyd would beam when he talked about his grandchildren. His statement was always "I think I have the best grandchildren in the world. They love ole Grand pop and they make me proud." He also loved being a "Big Brother" to his siblings, Lloyd, "Friss", Horace and Gloria.
Floyd was an active member and the oldest member of Chapel Grove United Church of Christ.
Floyd was preceded in death by his wife Elsie Knight Ricks, youngest daughter Flora, brothers Lloyd and Horace Ricks, sisters Gloria Ricks Carter and Dorothy Ricks Glover. He leaves to cherish his memory one daughter Veronica Ricks Walker (Reginald), one son Floyd A. Ricks, Jr. (Joyce), 3 grandchildren, Sabrina D. Walker, Jennifer Ricks Wadley (Fred) and Kenneth L. Ricks, 3 great grandchildren, Briona J. Walker, Fred Wadley, IV and Giana G. Wadley, 1 great great grandchild, Messiah S. Bell; one sister-in-law Ameta C. Ricks and one brother-in-law Mark "Ricky" Boykins (Jessica), God Son Rev. Vurnis Young (Yvonne), and a host of multi-generational nieces and nephews, cousins, and extended family and friends.
A celebration of life will be held 2:00 p.m. Saturday, February 18, 2023 at Chapel Grove U.C.C. He will be laid to rest in the church cemetery. Professional services with dignity have been entrusted to Crocker Funeral Home, Inc.
Services
Viewing
Friday, February 17, 2023
3:00 PM - 7:00 PM
Crocker Funeral Home
900 East Washington Street
Suffolk, VA 23434
Get Directions on Google Maps
Celebration of Life
Saturday, February 18, 2023
2:00 PM - 3:00 PM
Chapel Grove U.C.C.
7366 West Blackwater Road
Windsor, VA 23487
Get Directions on Google Maps
Share this obituary