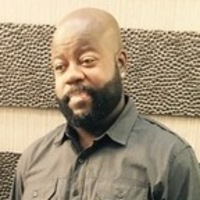 Gerald Ravis Wiggins, Jr.
March 15, 1971 - March 16, 2023
Gerald Ravis Wiggins, Jr was born on August 15, 1971 to Gerald Ravis Wiggins, Sr and Paige Olivia Scott-Wiggins in the Hampton, VA.

Gerald Jr, aka man-man, attended John F. Kennedy high school and was a part of the wolverine graduating class of 1989. While attending John F. Kennedy, he was a part of the football team where he played full back. During his years of high school he also had a talent for art work. After high school, Gerald Jr. joined the workforce where he was employed with Gwaltney and also the city of Suffolk. In 1998, Gerald and Sharmin union began and Gerald relocated to Goose Creek, South Carolina where he would spend the remaining of his life here on Earth.

When he was not working he enjoyed playing softball with various teams including the former Oakdale A's. He also loved customizing cars with audio sound systems and graphics. You could also find Gerald at the Charleston Rec Center hanging out taking scores of the softball games or helping out around parks and gymnasiums.
Gerald Jr. leaves to cherish his memories, his wife Sharmin Wiggins, Three children, Tajhanique Massaley(Siafa), Daylon Wiggins and Kaylin Wiggins, His father Gerald Wiggins Sr(Voncier), mother Paige Scott-Wiggins, His only sibling Dwayne Wiggins Jr(Jerea), his grandson Jacob Ravis Wiggins, nephew Dwayne Wiggins Jr, niece Jeliah Wiggins; mother-in-law, Sabrina Brown; father-in-law, Lawrence Brown (deceased); two brothers-in-law, Kendrick (Arielle) Brown and Karon (Therese) Brown; Bishop Fulton (Tasha) Parham; and a host of uncles, aunts and cousins.
A celebration of life will be held 11 a.m. Tuesday, February 28, 2023 at New Gospel Temple C.O.G.I.C, 236 Mineral Spring Road, Suffolk, VA 23438. Superintendent Gerald Goodman will deliver the message of comfort. He will be laid to rest in Carver Memorial Cemetery. Professional services with dignity have been entrusted to Crocker Funeral Home, Inc.
Services
Viewing
Monday, February 27, 2023
5:00 PM - 7:00 PM
Crocker Funeral Home
900 East Washington Street
Suffolk, VA 23434
Get Directions on Google Maps
Celebration of Life
Tuesday, February 28, 2023
11:00 PM - 12:00 PM
New Gospel Temple COGIC
236 Mineral Spring Road
Suffolk, VA 23438
Get Directions on Google Maps
Share this obituary