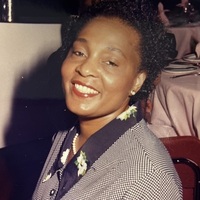 Helen Wilson-Gunn
May 11, 1941 - September 23, 2022
Helen Wilson-Gunn was born on May 11, 1941, in Holland, Virginia, now Suffolk. She was the third child of the late Isiah and Laura Wilson. She was predeceased by one brother, Isiah Earnest Wilson.
Helen was a bright and energetic youngster, always seeking a new adventure with her siblings and cousins as they romped around the farm and neighborhood. Helen embraced life and kept that drive for a new adventure throughout her life as she traveled and explored new places. At an early age she was baptized and joined Stoney Branch Baptist Church, Gates, North Carolina.
Before she was of legal school age, she wanted to go to school with her older siblings and was allowed to attend the one-room school at Pleasant Grove. When that school closed, she attended and graduated from the Nansemond County Training School in 1958.
Upon graduating from high school, Helen attended Norfolk State College (now University) for a while, departed, and began working in New York. She worked numerous years before returning to college and graduating from Long Island University, New York with a B.S. degree in Marketing.
Helen was employed at several firms and organizations from 1963-1978. Among them were the City of New York and American Home Products, where she was an Administrative Assistant; Holt, Rinehart, and Winston Publishing Company, later acquired by Columbia Broadcasting System (CBS) Radio Division, where she was employed from 1978 to 1997 as an Executive Assistant, manager of Sales Analysis, and lastly as a Credit and Collections Representative. She then worked with the United Nations International Children's Emergency Fund (UNICEF) and ended her career with the accounting firm of Ernst and Young.
While in New York, Helen joined and worshipped at Mount Sinai Baptist Church in Brooklyn. Once retired, Helen moved back to the family farm and rejoined her home church, Stoney Branch, where she was dedicated member, trustee, and usher for as long as her heath permitted.
Helen joined the Portsmouth chapter of Las Amigas, Incorporated and the Holland Community Birthday Club, of which she enjoyed planning trips for both organizations. Helen also enjoyed entertaining family and friends during holidays. She, too, like playing Scrabble and collecting coins and watches.
She leaves to cherish her memory five sisters: Queen Wilson, Pearl Tanner (Winfield), Stella Wilson (James), and Lorethia Roberts (Welford) of Suffolk, Virginia; Dorothy Wiggins of Portsmouth, Virginia; two brothers, Albert Wilson (Velma) of Newport News, Virginia and Rudolph Wilson (Lenora) of Chesapeake, Virginia; one aunt, Dollie Boone of Norfolk, Virginia; one uncle, Earl Johnson of Portsmouth, Virginia, nieces, nephews, great nieces and great nephews and a host of cousins and friends who loved her. Her special friends were Helen Dickerson, Jean Hodge, Claudette Wilson and Ann Head.
A public viewing will be held 2:00pm -6:00pm, Friday, September 30, 2022 in the Melvin J. Blowe Chapel of Crocker Funeral Home, Inc. A celebration of life will be held noon, Saturday, October 1, 2022 at Pleasant Grove Baptist Church. She will be laid to rest in Laurel Hill U.C.C Cemetery. Professional services with dignity have been entrusted to Crocker Funeral Home, Inc.
To send a flower arrangement or to plant trees in memory of Helen Wilson-Gunn, please click here to visit our Sympathy Store.
Share this obituary