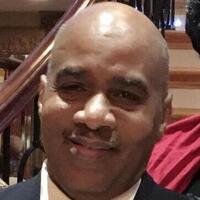 James Herndon, Jr.
February 26, 1952 - December 16, 2022
James Edward Herndon, Jr., lovingly nicknamed "Bug", of Suffolk, VA peacefully passed away on December 16, 2022 at Sentara Obici Hospital at the age of 70 surrounded by family and friends.
James was born on February 26, 1952 to his beloved parents, the late James Edward Herndon, Sr. and the late Lena Brock Herndon.
James' tender, loving spirit, unique laugh and anointed singing voice will be missed and remembered in our hearts forever.
James was a proud graduate of John F. Kennedy High School in Suffolk, VA and Tidewater Community College, Suffolk, VA. He also attended St. Paul's College, Lawrenceville, VA and Norfolk State University, VA. He used his college education to serve as a substitute teacher before beginning his career at Sentara Obici Hospital where he met his loving wife Mary Peele Herndon. James retired from Sentara Obici after over 30 years of service as a Print Shop Coordinator.
Besides his parents, James was preceded in death by his brother Donald Eric Herndon and sister, Linda Herndon Rogers. He is survived by his wife of 35 years, Mary Herndon; son, Arnold Warren, Jr. (Paulette); daughters, Erica Harper (Victor), Renarda Bradshaw (Lloyd, Jr.); five grandchildren, Chelsea Herndon, Preston Jones, Dennis Harrison, Jr., Lloyd Bradshaw, III and Llondyn Bradshaw; siblings, Alton Herndon (Sonya), Hazel Knight, Gloria Young (Reginald) and Sandra Harris (Dennis); his loving sister/cousin, Regena Herndon; loving aunt, Sallie Person and a host of cousins, nieces, nephews and friends.
As a man of faith, James wanted a homegoing service that celebrates his eternal life in Heaven. Flowers may be sent to Crocker Funeral Home in Suffolk, VA. A celebration of life will be held noon, Tuesday, Dec. 27, 2022 at First Baptist Mahan Street, 112 Mahan Street, Suffolk, Virginia 23434. He will be laid to rest in Nansemond-Suffolk Cemetery. Professional services with dignity have been entrusted to Crocker Funeral Home, Inc.
Services
Viewing
Monday, December 26, 2022
1:00 PM - 7:00 PM
Crocker Funeral Home
900 East Washington Street
Suffolk, VA 23434
Get Directions on Google Maps
Celebration of Life
Tuesday, December 27, 2022
12:00 PM - 1:00 PM
First Baptist Church Mahan
237 N. Main Street
Suffolk, VA 23434
Get Directions on Google Maps
Share this obituary