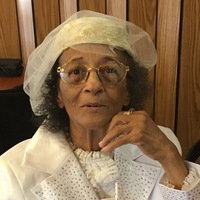 Jeanette M. Brown
November 29, 1941 - November 28, 2022
I have fought a good fight, I have finished my course, I have kept the faith... II Timothy 4:7
On Monday, November 28, 2022, God welcomed His precious daughter Jeanette McClenny Brown home to her eternal rest. She was born November 29, 1941 in Southhampton County and was cared for and loved dearly by her parents Elsie Powell Eley and Royal Eley.
Jeanette attended Southhampton County schools and later in life moved to Suffolk, Virginia where she was employed as a cook and as a Certified Nurse's Aide until she retired from Sentara Home Healthcare. In between her years in the workforce, she was a stellar homemaker and enjoyed taking care of her family. She also loved being outdoors and found great peace when gardening and fishing.
Jeanette was a devout follower of Christ for over half of her sweet life. She loved worshiping the Lord dearly. She was known as an avid prayer warrior. She constantly prayed for her family, friends, and others. She frequently visited friends and family who were sick in the hospital and prayed for them. She always made sure to ask those who she prayed for if they knew the Lord Jesus as their Savior; if not, she would make sure that she would share the Gospel with them.
From the early morning when she got up until the evening, Jeanette filled the house with gospel music and sermons played on her favorite radio stations. Some of her favorite artists were Mahalia Jackson and Shirley Caesar. Two of her favorite preachers were the Reverend Ernest Angley and the Reverend R.W. Shambach.
Jeanette enjoyed her Wednesday afternoon prayer gatherings with her fellow sisters in Christ, where they prayed for their families, the sick, the church, and the nation.
Her life was devoted to serving others. Whether it was cooking for family, babysitting loved ones, attending to sick loved ones, etc., she always put others before herself. She gave her all for the church and those she loved.
Jeanette was preceded in death by her parents, Elsie and Royal Eley, son Willie "Tommy" Colbert, brother Horace "Sonny" McClenny , sister Alice Pearman, grandson Matthew Paige, brothers-in-law Zelna Parson and Arthur Pearman and sisters-in-law Lana Jean Williams and Doris McClenny.
She leaves to cherish her memory her husband of nearly 50 years Eugene Brown III; her daughters Sylvia Izomo, Denise Teal (Jeri), Latisha Baines (Michael) and Tomeka Paige (Willie); 2 sons, William "Jerry" Colbert (Tamerio) and Gene Brown (Natasha); two sisters, Mary Ann Parson and Patricia Eley; four brothers, Boussean McClenny (Esther), Royal Eley, Jr. (Mattie), James Eley (Cary) and Carlton Eley; 22 grandchildren; 14 great-grandchildren and a host of nieces, nephews, cousins and other family and friends. Even though Jeanette has gone on to receive her eternal reward, her spirit and legacy still lives on.
A public viewing will be held 4:00 - 6:00pm, Wednesday, December 7, 2022 in the Melvin J. Blowe Chapel. A celebration of life will be held 12:30pm, Thursday, December 8, 2022 at New Paul's Temple Holiness Church of Deliverance, 720 Hosier Road, Suffolk, VA 23434. Mrs. Brown will be laid to rest in Albert G. Horton, Jr. Memorial Veterans Cemetery. Professional services with dignity have been entrusted to Crocker Funeral Home, Inc.
Services
Viewing
Wednesday, December 7, 2022
4:00 PM - 6:00 PM
Melvin J. Blowe Chapel of Crocker Funeral Home, Inc.
900 East Washington Street
Suffolk, VA 23434
Get Directions on Google Maps
Celebration of Life
Thursday, December 8, 2022
12:30 PM - 1:30 PM
New Paul's Temple Holiness Church of Deliverance
720 Hosier Road
Suffolk, VA 23434
Get Directions on Google Maps
Interment
Thursday, December 8, 2022

Albert G. Horton, Jr. Memorial Veterans Cemetery
5310 Milners Road
Suffolkq, Virginia
Get Directions on Google Maps
Share this obituary