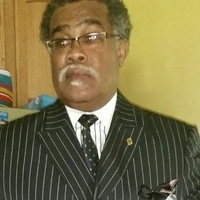 Joseph H. Copeland, Sr.
April 5, 1948 - August 11, 2022
Joseph H. Copeland, Sr., 74, of Suffolk, Virginia transitioned peacefully on August 11, 2022. He was the middle son of Raymond J. Copeland, Sr. and Etta V. Copeland. Joseph was preceded in death by his parents and two of his brothers, Raymond J. Copeland, Jr. (Margie) and Talmadge L. Copeland (Joyce).
Joseph was born in Nansemond County, Virginia on April 5, 1948, and resided in Virginia for the bulk of his life with a brief stint in Cleveland, Ohio. He was a 1966 graduate of Southwestern High School and attended Norfolk State University. He first worked at the Norfolk Naval Shipyard and was then employed for 35 years by the United States Postal Service in Cleveland, Ohio until he retired in 2006.
He was an avid bowler, belonged to a league, won numerous trophies, and once bowled a perfect game. Music and dancing were two of his favorite activities, and he also loved discussing history and politics. However, nothing compared to his love for his blue Corvette. Always known as a sharp dresser, he could be seen wearing a matching blue scarf and gloves while driving.
He is survived by his wife Crystal C. Copeland, his sisters, Janice M. Copeland, and Muriel A. Council (James), his brother, Roderick K. Copeland (Phyllis), a sister-in-law, Clara Pasco Nelson from Cleveland, Ohio, and his children, Joseph H. Copeland, Jr. (Paulette), Natasha M. Copeland, and Jonathan I. Copeland (Nicole). Additionally, he leaves behind two wonderful bonus children, Terron A. Sumpter (Letrice) and Chelsea Y. Sumpter and his favorite godson, Fred L. Yulee. He also leaves behind his uncle, E.C. Copeland, aunt, Hilda Abram, and many grandchildren, great-grandchildren, nieces, nephews, cousins, and cherished friends who loved him tremendously.
A viewing will be held 5-7 p.m. Monday, August 15, 2022 in the Melvin J. Blowe Chapel of Crocker Funeral Home. A celebration of life will be held noon, Tuesday, August 16, 2022 at Mineral Spring Baptist Church, 4849 Mineral Spring Road, Suffolk, Virginia 23438. He will be laid to rest in Laurel Hill Cemetery. Professional services with dignity have been entrusted to Crocker Funeral Home, Inc.
Share this obituary