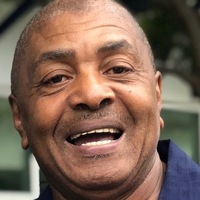 Larry D. Copeland
June 17, 1952 - September 13, 2022
Larry D. Copeland, 70, of Suffolk, VA, entered into eternal rest on Tuesday, September 13, 2022. He was a native of Suffolk, Virginia and was born to the late Leland Copeland and Helen Ruth Pope. Larry was preceded in death by his grandfather, John Pope, grandmother Rowena Pope, brother; Nathaniel Williams, son in-law, John A. Harston, brothers in-law, Michael Mizell and Alonza Mizell, sister in-law, Joann Knight.
Larry graduated from John F. Kennedy High School, Suffolk, VA. He retired from Planters Peanuts as a truck operator. Larry loved singing and praising the Lord and was a long-time dedicated member of Lakeview Missionary Baptist Church, Suffolk, VA, where he was a Trustee, choir member and church custodian. He could often be heard leading numerous songs in the choirs, quartets, and several gospel concerts. Larry had a beautiful, melodic, unique voice and was often requested to just "sing it Larry." He was also very competitive in nature and those who knew him often laughed about it while reminding him. He loved playing card games and being with his family and friends. Larry was a sports fanatic, and his favorite football team was the Pittsburgh Steelers, while his favorite basketball team was the Boston Celtics. He loved his family, church, community, and swimming; he was an excellent swimmer. Larry was also a respected and dedicated member of the Saratoga Civic League and the Saratoga Family Crew.
He lovingly leaves to cherish his memories: His loving and devoted wife, Mary V. Copeland of Suffolk, VA,; loving mother; Helen R. Pope, Suffolk, VA, one son, Marcus Hardy (Kesha) Suffolk, VA; two daughters, Pamela Reynolds (Marvin), Arnetra Harston of Suffolk, VA; brother, Ernest Williams (Diane) of Hampton, VA; sister, Helen Breckenridge of Portsmouth, VA; mother in-law, Mamie E. Skinner,; four brothers-in-law, George Skinner, Philadelphia, PA, Milton Mizell (Pamela), Portsmouth, VA, Jonah Mizell and Steve Mizell both of Suffolk, VA; five sisters in-law, Maria Andrew, Lisa Williams, Jeanette Mizell, Precena Wiggins (Virgil), Denise Riddick all of Suffolk, VA; thirteen grandchildren: Alexis Campbell Aliyah Hardy, Marcus Hardy, JayKela Lewis, Janiya Lewis, Roshaud Skinner, Myesha Snead, Aldru Chapman Jr. ZaCari Love, Mylasia Reynolds, Jasmine Knight, Jaden Knight, and Ayanna Harris,; two great-grandchildren: Azaan Smith and Jayden Fullerton, god daughter, Sarah Knight (Dedrick), special cousin, Catherine Sawyer, special niece, Trevar Parker, special friends, Sherita Hicks and Priscilla Mills, a host of other nieces, nephews, cousins and friends.
A celebration of life will be held 1:00 p.m. Wednesday, September 21, 2022 at Lakeview Missionary Baptist Church, 635 Brook Avenue, Suffolk, Virginia. Rev. Daniel E. House is Pastor and Officiator. He will be laid to rest in Holly Lawn Cemetery. Professional services with dignity have been entrusted to Crocker Funeral Home, Inc.
To send a flower arrangement or to plant trees in memory of Larry D. Copeland, please click here to visit our Sympathy Store.
Share this obituary