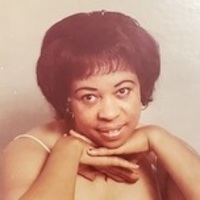 Mable Marie Hucks
June 5, 1938 - September 12, 2022
Mable Marie Hucks, 84, of 14010 Melissa Drive, Smithfield, VA., passed away on Monday, September 12, 2022. Mable was born on June 5, 1938, to the late Johnnie and Marie Hucks of Ivor, VA. Besides her parents she was preceded in death by her daughter Joyce O. Diggs.
She attended Franklin Public Schools. Mable moved to New York as a young adult, where she worked and lived most of her adult life. She resided in Smithfield,VA, the last nine years of her life. She was passionate about family, friends, reading, and entertaining. Christmas was her favorite holiday/season of the year. Mable is survived, in loving memory, by two sisters, Claudia Hucks and Gladys Uzzle, Ivor, VA. She is also survived by her son, Johnnie Hucks Sr, Hampton, VA; Claudine Tunstall (Stan) Springfield, VA; Gregory Hucks (Sharon) Smithfield, VA; Marnita Hucks, Courtland, VA; Shawanda Gwaltney (Karl) Ivor, VA; 10 grandchildren, 13 greatgrandchildren, 2 nieces, 1 nephew, as well as other relatives.

A celebration of life will be held 12:00pm, Saturday, September 17, 2022 in the Melvin J. Blowe Chapel of Crocker Funeral Home, Inc. Ms. Hucks will be laid to rest in Davis Cemetery, Wakefield, VA. Professional services with dignity have been entrusted to Crocker Funeral Home, Inc.
To send a flower arrangement or to plant trees in memory of Mable Marie Hucks, please click here to visit our Sympathy Store.
Share this obituary