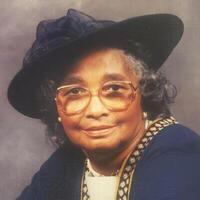 Mary Frances Everett
April 24, 1928 - September 24, 2022
Mary Frances Everett was born to the union of the late Eddie Edwards and Mary (Blow) Edwards on April 24, 1928, in the County of Isle of Wight, Virginia. On Saturday, September 24, 2022, her journey of life peacefully ended, and she proceeded on to meet our Lord and Savior Jesus Christ.
Mary Frances received her education through the Isle of Wight County School System and went on to gain employment at The Butter Dish. She continued her career at Florence Bowser Elementary School where she retired after 20 years as the Cafeteria Manager.
Mrs. Everett accepted Christ at a young age as a member of Christian Home Baptist Church, Smithfield, VA. After marrying the love of her life, Theodore Everett, she joined Canaan Baptist Church (CBC). As an active member of CBC, she served in many organizations; President of the Joint Usher Board for over 17 years, food service coordinator, a member of the vacation bible school staff and the Women's Ministry. She also worked alongside her husband as church sexton and preparing communion. On June 8, 2014, she was honored as a Deaconess Emeritus.
Being involved in her community was an important part of her life. She earned a Certificate of Appreciation for Outstanding and Dedicated Service in 2003 from Nansemond Parkway Civic League. She was a long-time member of the Busy Bee Garden Club and enjoyed attending culinary conventions and other educational workshops.
Mary Frances was known for her cooking, especially homemade yeasts rolls, sweet potato and coconut pies, and Sunday breakfasts. Numerous family and friends would gather to partake of these delicacies. Somehow, she managed to be a devoted wife, a loving mother, and a listening friend to all.
Mrs. Everett was predeceased by her husband, Theodore Everett, two daughters, Delphine Taylor and Cressandra Felton, also her sisters, Bertha Batten, Odessa Thomas, Mable Byrd and Lillian Joyner. Survivors include a son Raymond Edwards (Audrey), Oakville, CT, daughters, Veta Cowling (Vincent), Hampton, VA, Vanessa Scurry (Eddie), Augusta, GA, Yvette Artis (Gary), Buford, GA, Velma Taylor, Suffolk, VA, Frances Cohen (Richard), Lawrenceville, NJ, and Sharon Hardin (Ronald), Upper Marlboro, MD. Two sisters, Clarice Uzzle, Smithfield, VA and Martha Whitaker, Baltimore, MD. Two sisters-in law, Thelma Hicks, Suffolk, VA and Dorothy Cohen, Charlotte, NC., 16 grandchildren, 38 great grandchildren, 1 great, great-grandchild, a host of nieces, nephews, and friends too numerous to name.
A public viewing will be held 2 – 6 pm, Thursday, September 29, 2022, in the Melvin J. Blowe Chapel of Crocker Funeral Home, Inc. Celebrating the Life for Mary Frances Everett will be held 2:30 pm, Saturday, October 1, 2022, at Canaan Baptist Church. Pastor Vernon Hairston, Sr. will deliver the message of comfort. The service will be livestreamed from Zoom with I.D: 958 9226 2759. She will be laid to rest in Canaan Baptist Church Cemetery. Professional services with dignity have been entrusted to Crocker Funeral Home, Inc.
To send a flower arrangement or to plant trees in memory of Mary Frances Everett, please click here to visit our Sympathy Store.
Share this obituary