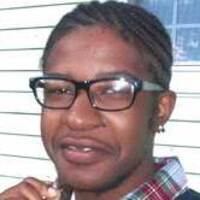 Prenell "PJ" Scott
February 1, 1990 - September 17, 2022
Prenell Scott, 32, of Nansemond Parkway, Suffolk, Virginia transitioned Saturday, September 17, 2022 in Franklin, Virginia.
PJ or Peedy as he was affectionately known was born February 1, 1990 to Tamera Scott and Prenell Randolph, Jr. He attended Suffolk Public Schools. At an early age he displayed a love of drawing, a talent he inherited from his dad and grandfather. He had a beautiful smile and infectious laugh like his mom.
He was preceded in death by his maternal grandparents, Luther and Jacqueline Scott, his paternal grandfather, Prenell Randolph, Sr. and his uncle Wayne Randolph.
Left with loving memories of him are his parents, Tamera and Prenell. He also leaves two brothers, Rakheem Scott and Pierre Randolph; his loving grandmother, Catherine Randolph; two aunts, Jasmine Scott and Anita Johnson (Claxton); two nieces, four nephews; six first cousins; along with other loving family, friends, Jamie Bray and the Cook Community Services Center.
PJ's passing has left a vacant place in our hearts, but Matthew 11:28 tells us to "Come to me, all who are weary and burdened, and I will give you rest".
A celebration of life will be held noon, Saturday, September 24, 2022 in the Melvin J. Blowe Chapel. He will be laid to rest in Holly Lawn Cemetery. Professional services with dignity have been entrusted to Crocker Funeral Home, Inc.
To send a flower arrangement or to plant trees in memory of Prenell "PJ" Scott, please click here to visit our Sympathy Store.
Share this obituary