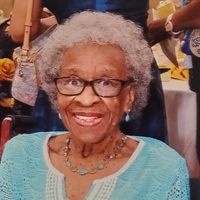 Prestonia Purdie
February 20, 1932 - October 27, 2022
"The things you do for yourself are gone when you are gone, but the things you do for others remain as your legacy." Kalu Ndukwe Kalu
On October 27, 2022, Prestonia Joyner Purdie heard the words, "Well done" as she peacefully transitioned during her sleep while in the care of her devoted daughter, Valerie and son-in-law, Junie. After 90 years of serving others as a beautician, cafeteria manager, and school bus driver, her time had come for her to enter eternal rest.
Prestonia's journey began on February 20, 1932 in the "Camptown" area of Franklin, Virginia. She was the third born child and second daughter of the late Lee and Allie Mae Mitchell Joyner. Prestonia was preceded in death by her parents, her stepfather, Benjamin Gardner, sister Vernestene "Teenie", and her brothers Herbert, Earl, and Eddie. Prestonia graduated from Hayden High School, the school for African Americans in Franklin, VA.
Upon graduation, Prestonia met Ralph Randolph Purdie and moved to Ivor which became her forever home. Moving to Ivor was a stark contrast to life in the "big city" of Franklin. Instead of weekends going to the movies in Franklin, a lot of time was spent fellowshipping with her many sisters and brothers-in-law on "Purdie" Avenue. Their greatest treasure was their only child, Valerie Purdie Ricks.
Prestonia worked for Southampton County Public Schools for 45 years in the cafeteria of multiple schools, including Southampton Middle School where Junie was the principal. She loved seeing the students, and over her 45 years, started feeding the grandchildren of the first students she had. Prestonia also drove school bus for Southampton and was known as "Ms. Prestone" to her students on the bus. In 2018, she received a post card from Yori, an exchange student from Japan who rode her school bus in 1993. Yori wrote that when she recalled her time in Ivor she thought of Ms. Prestone and her school bus. Prestonia knew her time in the cafeteria and driving the bus was more than a job. She enjoyed what she did and left an impact on those she served.
Prestonia loved her church, New Branch Baptist Church. She served on the Usher's Board and would faithfully be found Sunday mornings sitting in her favorite spot on the right side of the church. She loved hearing the choir sing and even after dementia set in and she was no longer communicative, Prestonia would sit, nodding her head to the beat of the music.
Prestonia was active in the community. In the 1960s, her house was the headquarters when the Freedom Riders were in Ivor registering minorities to vote. Truth be told, her house was a gathering place for many families and friends. Prestonia loved to entertain and have a good time. She enjoyed traveling domestically and internationally and enjoyed trips to New York City to see Broadway shows.
Prestonia loved her family. For the last 11 years of her life, Prestonia lived with Junie and Valerie. Life had truly come full circle as they lived with Prestonia for five years when they first married. She took care of them as they started out as young professionals, giving them a place to stay rent-free and nourishing them with her good cooking. Prestonia leaves a legacy of love with her daughter Valerie Purdie Ricks and son-in-love, James W. Ricks of Zuni, Virginia; her grandson, Doran Ricks (Fabio) of Fort Lee, New Jersey; granddaughter Danika Ricks Briggs of Henrico, Virginia, and great-grandson, Aiden Briggs of Henrico, Virginia. She has a host of other relatives and friends who will miss her dearly.
A celebration of life will be held 11:00am, Saturday, November 5, 2022 at Oak Grove Baptist Church, 38070 Rocky Hock Rd, Wakefield, VA. Rev. Frank L. Aikens, Sr. will deliver the message of comfort. Ms. Purdie will be laid to rest in Davis Cemetery, 32325 General Mahone Blvd Wakefield, VA. Professional services with dignity have been entrusted to Crocker Funeral Home, Inc.
To send a flower arrangement or to plant trees in memory of Prestonia Purdie, please click here to visit our Sympathy Store.
Share this obituary