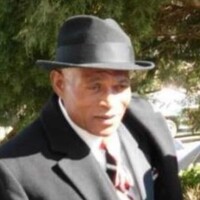 Randolph Simmons
November 24, 1950 - October 24, 2022
Randolph "DIP" Clark Simmons, Sr. 71, of Sierra Drive, Suffolk VA passed away on Monday morning, October 24, 2022, at Sentara Norfolk General Hospital in Norfolk, VA. He was the son of the late Thomas and Rosa Goodman. Dip as he was affectionally called by family and friends retired from Smithfield Packing Company after working there for more than 20 years. He was also a devoted member of New Paul's Temple Holiness Church of Deliverance in Suffolk, VA where he sang in the men's choir.
Dip leaves to cherish his memories: a daughter Letitia Carrington (Herman) of Suffolk, VA, 3 sons – Rozell Simmons of Suffolk, VA, Randolph Simmons Jr., of Hampton, VA and Courtney Hunt (Timica) of Richmond, VA, 3 brothers -George Frank Simmons Sr., (Wilma); Lelpolda Simmons and Linwood Simmons, Sr., 3 sisters – Delois Slaughter, Janie Moore (Tyrone), Gail Parker (Roy) and a devoted friend Bessie Hunt all of Suffolk, VA; 9 grandchildren and 2 great-grandchildren, and a host of nieces and nephews.
The family will receive guests at 1400 Sierra Drive Suffolk, VA 23434 between the hours of 5 pm - 9 pm.
A celebration of life life will be held 11 a.m. Tuesday, November 1, 2022 at New Pauls Temple Holiness Church. He will be laid to rest in Carver Memorial Cemetery. Professional services with dignity have been entrusted to Crocker Funeral Home, Inc.
To send a flower arrangement or to plant trees in memory of Randolph Simmons, please click here to visit our Sympathy Store.
Share this obituary