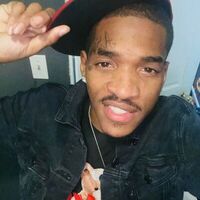 Rasheed "Peso" Asun Talley
August 5, 1995 - August 20, 2022
Rasheed "Peso" Asun Talley, 27, transitioned Saturday, August 20, 2022. He was born in Suffolk, VA on August 5, 1995 to Patricia Wilson and Harry Talley. He was preceded in death by his grandmother Patricia Holmes, grandfather Richard Wilson, Sr., aunt Sonya Franklin and nephew J'Kyle Lewis.
Rasheed attended Kings Fork High School and received his high school diploma in 2014. During his career he was employed with All Under One Roof Construction.
Rasheed had the prettiest smile that could be seen from a mile away. He could charm anyone with that smile. He loved to make music, hang out with his friends and spend time with his family. All the kids in the family loved him and called him "Uncle Sheed."
Rasheed leaves to cherish his unforgettable memories his son Asun Rasheed Talley "Sun Sun," his daughter A'Lani Noelle Talley "Lani Bug;" parents, Patricia Wilson (Vernon) of Suffolk, VA and Harry Talley of Greensville, SC; grandparents, Wilbur Johnson, Malinda Booker and Harold Talley (Enda); siblings, Kaneisha Holmes, Precious Holmes, Jatarus Talley, Shaquana Keith, A'zharia Talley, and Jayden Talley; aunts, Sonya Brown (Michael), Tracey Holmes, Monica Floyd (Byron), Makesha Holmes, Robin Parham (Antonio), Robin Burton (Quinton), and Mittie Privott; uncles, Maku Holmes, Spencer Talley, and Aundrae Anderson; a host of nieces, nephews, family and friends; and a special friend, Hy'shequa Warren.
A public viewing will be held 1-6pm, Sunday, August 28, 2022 in the Melvin J. Blowe Chapel of Crocker Funeral Home, Inc. A celebration of life will be held 1:00pm, Monday, August 29, 2022 at Balm Church East Campus. Mr. Talley will be laid to rest in Carver Memorial Cemetery. Professional services with dignity have been entrusted to Crocker Funeral Home, Inc.
To send a flower arrangement or to plant trees in memory of Rasheed "Peso" Asun Talley, please click here to visit our Sympathy Store.
Share this obituary