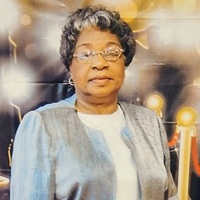 Regenia Ann Jones Lawrence
February 19, 1942 - January 11, 2023
Regenia Ann Jones Lawrence wife, mother, sister, aunt, cousin, friend, and woman of many gifts and talents passed away on January11,2023 at Sentara Obici Memorial Hospital at the age of 80 years old. Regenia leaves a void in her family, the Windsor community and beyond.

Regenia was preceded in death by her husband Sidney Lawrence, Jr., parents Lee and Lillie Jones, siblings: Louise Jones, Geneva J. Walton, Ursula J. Picot, Sarah J. Lawrence, and Kemper Lee Jones.

She joined Chapel Grove Christian Church at an early age. Her church affiliations were a member of the Women's Ministry, Missionary Circle, Ushers' Ministry, Culinary Ministry Chair, and a member of the Trustee Board.

Regenia was also a member of the Windsor Chapter of the AARP.

Regenia attended Georgia Tyler High School, Windsor, VA also Kee Business College in Portsmouth, VA where she studied Secretarial Studies.
One of her many talents was seamstress for family and friends. While using her creative side she learned how to make her own patterns out of newspaper as she did in creating coats, suits, wedding gowns and other items of clothing.

Regenia also had a passion for cooking and turned this into a stream of income as a caterer. Her food was known far and near as she catered banquets, for several organizations, family reunions etc. Her Sunday dinners will be missed by many. Regenia was famous for scrumptious yams and desserts.

As she worked alongside her husband Sidney with their Medicaid transporting company (Rite Way Taxi Service) Servicing the Isle of Wight County areas.

Regenia worked in the Isle of Wight County Public School System for over 30 years as a bus driver and cafeteria associate, retiring in 2004.
Regenia leaves to cherish her memory her children Sidney Lawrence, III (Domonique) Leander, Texas and Cynthia L. Duck (Anthony), Windsor, VA. Five grandchildren: Efrem Bernard Lawrence (Karla), Marcus Lawrence (Pam), Adrienne Brown, Christian Hunter (Keosha), and Sydney Woolcock; eleven great grandchildren: Iyanna, JaNiyah, Yanni, Skylar, Vincent, Amani, Zora, Asa, Jimia, Karmyn, and Jacob; siblings: Bernice Bolling (Randolph) and James Carter Brodie(Barbara); one aunt Lee Ather Stokes, and a host of friends, nieces, nephews, cousins, and also a special friend Raymond Goodman.
Regenia will be missed by her family and friends. She was a devoted wife, mother, grandmother, sister, aunt, and friend.
A memorial service will be held 11am, Wednesday, January 18, 2023 at Chapel Grove United Church of Christ, 7366 West Blackwater Road, Windsor, VA 23487. Rev. H. Carlyle Church, Jr. will be delivering the message of comfort. Professional services with dignity have been entrusted to Crocker Funeral Home, Inc.
Services
Memorial Service
Wednesday, January 18, 2023
11:00 PM - 12:00 PM
Chapel Grove United Church of Christ
7366 West Blackwater Road
Windsor, VA 23487
Get Directions on Google Maps
Share this obituary