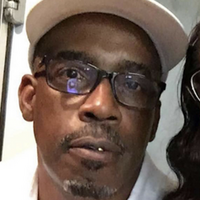 Reginald Watson
June 26, 1966 - August 28, 2022
Reginald Smallwood Watson, 56, entered into eternal rest on Sunday at Norfolk General Heart Hospital. He was born on June 26, 1966 to the late Henry C. Watson & Mariah H. Watson. He attended John F. Kennedy High School and worked at Trindico for many years. He was a true Pittsburgh Steelers fan.
He was preceded in death by two children Baby Boy Davis and Baby Girl Davis, one brother Henry Harris, maternal grandmother Sarah Luster, and mother-in-law Sandra Davis.
Reginald leaves behind to cherish his memory his devoted and loving wife Rhonda Davis-Watson; kids, Angel, ShaQuita, Jamar, Jasmine, Shawanda, Tierra (T.R.), Nita and Ashley; grandchildren, NyAsia, Makiya, ZyYanna, Chloe, Kalani, Madison, Jeremiah, Frankie, Jr, LaQuan, Jacari, Nhiyzheh, Neraeh, Charisma, Kash, Dh'mani, Harmonee, Andre, Saniyia and Ava; brothers, Steve Watson (Patricia), Darrell Watson and devoted sister Annette White (Randall); in laws, Gregory Davis (Shelley), Darryl Davis, Annette Waddler (Darrell) and a devoted sister-in-law, Bridgette Hunter (Michael); brother-in-law, Corey Davis; goddaughter, Erica Jones; devoted nephew, Randy White (Brittany); devoted cousins, Sandra Mitchell, Kenny Harris, and Ron Mitchell; special friends/brothers, Leon Jones, Ryan Privott and Roy Johnson; uncles and aunts, Margaret, Amanda, Barbara, Deborah, Dwight, Connie, and Catherine; extended family the Johnson, Drayton and Jones family and many loving nieces, nephews, cousins, and other family and friends.
A viewing will be held 1-5 p.m. Sunday, September 4, 2022 in the Melvin J. Blowe Chapel. A celebration of life will be held 1:00 p.m. Monday, September 5, 2022 at Rising St. James P.H.C. He will be laid to rest in Carver Memorial Cemetery. Professional services with dignity have been entrusted to Crocker Funeral Home, Inc.
To send a flower arrangement or to plant trees in memory of Reginald Watson, please click here to visit our Sympathy Store.
Share this obituary