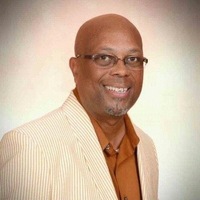 Rodney Allan Dirtion
November 20, 1966 - December 25, 2022
So now I am giving you new commandment: Love each other. Just as I have loved you, you should love each other. John 13:34 (NLT)
Rodney Allan Dirtion affectionately called "Dirt" of Suffolk, VA departed this life and went to be with the Lord on December 25, 2022. He was born on November 20, 1966, to the late William and Ethel Dirtion.
Rodney was a 1985 graduate of Suffolk High School. He later attended Paul D. Camp Community College where he earned an Associate Degree in Business Management. Rodney was previously employed with Planters Peanut Company, Angel Wings and Sword & Spirit Medical Transportation Companies.
He was a lifelong member of First Baptist Church Mahan "112" where he served on the Brotherhood Ministry where he was currently serving as president, Men's Usher Ministry, Transportation Ministry, Male Chorus, Praise & Worship Ministry and Mass Choir. He worked diligently in any area of ministry where needed.
Rodney was honored as "Man of the Year" by his church family.
Rodney was gifted with a loving and helping spirit that extended well beyond his family and church. The love and support he provided his family and friends were immeasurable. He loved them with all his heart. Rodney was a diehard Dallas Cowboys, North Carolina Tarheels and Philadelphia 76ers fan.
Rodney was a classic man and a stylish dresser. He loved playing dominoes and trash talking. Rodney had many saying's but his favorite saying was "I didn't come to the party, I am the party".
Rodney leaves to cherish his life memories, his wife LaTrina W. Dirtion of 27 years, sister Deborah Jennings of Suffolk; three brothers, William Drakeford and Reginald Dirtion of Suffolk, VA, and Stewart Dirtion (Daphne) of Pasadena, MD; Special sister and brothers, Terrie Copeland (Bobby) and Joseph Myrick (Lucy) of Suffolk, VA, Calvin Myrick (Bonita) of Woodbridge, VA and Arnold Myrick (Denise) of Killeen, TX; nieces and nephews, Shamika, Fernando, Calvin Jr., Stewart Jr., Rosalyn and Kaiya, a host of other nieces, nephews and cousins; mother-in-laws, Florence L. Mercer of Bronx, NY and Barbara W. White of Suffolk, VA; brother-in laws, Vernon White of Suffolk, VA, Ronald White (Diane), Vernon Hicks, Bernard Hicks (Valerie), Julius Mercer all of New York and Elliott Rooks (Towanda) of Durham, NC; sister-in-laws, Annette Goodman (Eugene), Renay Lawler (Richard) and Debbie White all of Suffolk, VA, Angela Heflin (Douglas) of Chesapeake, VA, Sabrina Williams (Emanuel), Sharon Hicks, Selena Rooks, Lorina Rooks all of New York and Adrienne Hicks of Raleigh, NC; two god daughters, Dierdre Dunn and Alayzia Ricks both of Suffolk, VA godbrother, Justin Goodman and numerous exceptional and devoted friends which are too many to name.
A celebration of life will be held noon, Saturday, December 31, 2022 at First Baptist Church Mahan Street. He will be laid to rest in Carver Memorial Cemetery. Professional services with dignity have been entrusted to Crocker Funeral Home, Inc.
Services
Viewing
Thursday, February 2, 2023
12:00 PM - 4:00 PM
Albert G. Horton, Jr. Memorial Veterans Cemetery
5310 Milners Road
Suffolkq, Virginia
Get Directions on Google Maps
Prayer Service
Wednesday, February 22, 2023
1:00 PM - 4:00 PM
Melvin J. Blowe Chapel of Crocker Funeral Home, Inc.
900 East Washington Street
Suffolk, VA 23434
Get Directions on Google Maps
Graveside Service
Tuesday, February 28, 2023
1:00 PM - 4:00 PM
Carver Memorial Cemetery
2320 East Washington Street
Suffolk, Virginia 23434
Get Directions on Google Maps
Share this obituary