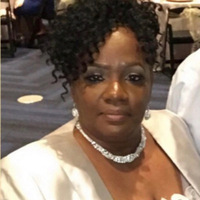 Sheila Elizabeth "Toni" Knight
October 28, 1962 - October 7, 2022
Sheila Elizabeth (Brown) Knight, born October 28, 1962 in Kings County Hospital, Brooklyn, NY, departed this life on Friday, October 7, 2022 in Norfolk General Hospital.
Sheila, affectionately known as Toni, grew up in the Brownsville section of Brooklyn, where she also spent her early adult life. She attended P.S. 165, Jr. High School 218, and George Wingate High School, all in Brooklyn, before moving with her family to Virginia her sophomore year. Sheila attended John F. Kennedy High School, Suffolk, Va., where she sang in the choir. She was graduated in the class of 1980.
Sheila accepted Christ at an early age and was baptized at age 16, at The Church of God Apostolic Faith, Waverly, Virginia.
Sheila took college courses in Early Childhood Education, while working as a paraprofessional at P.S. 41, Brooklyn, NY, before relocating to Suffolk, Va. Sheila continued her career path in education. She homeschooled her three preschool aged children and worked as a volunteer at Mack Benn Elementary School before accepting a position as a paraprofessional at Lakeland High School, Suffolk, Va. Sheila served 22 years at Lakeland as a dedicated educator, colleague, mentor and friend. She was recognized by her students and colleagues for her countless faithful endeavors, and was a two-time recipient of the Para-Professional of the Year award.
Sheila learned to crochet at a young age, and continued her hobby throughout her entire life, crafting blankets and scarves for her loved ones. She loved music and singing, and was a wonderful cook. She especially enjoyed cooking and sharing her delicious creations with others.
Sheila was the daughter of the late Bishop James E Brown Sr., and Mother Evelyn (Goodman) Brown. Sheila was preceded in death by her father James Brown Sr., her brother James E. Brown Jr., and her sister Cheryl Paige Brown. She is survived by; her husband Minister Jerome Knight, of Carrolton, Va., her four children Dior Brown (Monique) of Stonecrest, GA., Ekiya Knight of Hampton, Va., Shada Knight, of Laurel, MD, Oczavious Knight (Christal) of Richmond, Va., her mother Evangelist Evelyn Brown, of Wichita Falls, Tx., four sisters, Marilyn Brown, of Brooklyn, NY, Emma "Lekisha" Morales (Juan) of New York, LaBarbara Bell (Robert) of Virginia Beach, Va, Adrienne Palmer (Casper) of Tulsa, OK, and one brother Elder Jay Brown Sr. (Sherrie) of New York.
In addition she leaves to mourn four beloved grandchildren Keyell, Zymir, Lyrical, Josiah, her beloved uncle Bobby Goodman Sr., and aunt Paige Pringle, her lifelong friends Sherann Noel, and Gloria Fuller as well as a host of aunts, nieces, nephews, cousins, in-laws, and friends.
A viewing will be held 1-5 p.m. followed by a Wake from 5-7:30 p.m. Sunday, October 16, 2022 in the Melvin J. Blowe Chapel of Crocker Funeral Home. A graveside service will be held 11 a.m. Monday, October 17, 2022 at Meadowbrook Memorial Gardens. Professional services with dignity have been entrusted to Crocker Funeral Home, Inc.
To send a flower arrangement or to plant trees in memory of Sheila Elizabeth "Toni" Knight, please click here to visit our Sympathy Store.
Share this obituary