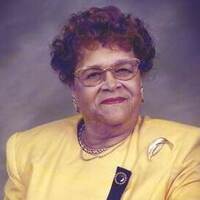 Thelma Artis Faulk
February 6, 2027 - February 7, 2023
On February 7, 2023 Thelma Artis Faulk transitioned into eternal rest. She was born February 6, 1927 to the late Percy Lloyd Artis and Lucy Claiborne Artis. She was married to the late James Thomas Faulk, Jr. and to that union five children were born, James Harold Faulk (Carrie), Rosalyn Yvonne Copeland, Bernice Burkhalter (Gerald), Sandra Willins and Patty Faulk Hopson. She was blessed with eight grandchildren and 6 great-grandchildren.
She was a proud Avon cosmetic saleswomen for many years and worked as a nurse's aide at Louise Obici Memorial Hospital in Suffolk, Virginia for a number of years. At one time Thelma was a member of the Eastern Star and Suffolkian Social and Saving's Club.
As a youth, she joined the Mt. Sinai Baptist Church in Suffolk, Virginia, but later joined East End Baptist Church in Suffolk, Virginia where she worked faithfully and lovingly as an usher, as well as in any other position that the church needed her. She loved to cook her special dishes for church affairs.
She was preceded in death by her siblings Georgia Mayo, Jasper Artis, Virgie Taylor, Marie Cassell, Mary Artis Davis, Beatrice Holland, Carolyn Lane, P.L. Artis, Elvin T. Artis and Samuel Artis. Also left to cherish her memory are sister Wilhemenia Jordan, nieces, nephews, cousins and friends.
In lieu of flowers please make donations to the Nansemond County Training School/Southwestern High School Alumni Association at P.O. Box 4168, Suffolk, VA, 23439.
A celebration of life will be held noon, Saturday, February 18, 2023 at East End Baptist Church. She will be laid to rest in Faulk Family Cemetery. Professional services with dignity have been entrusted to Crocker Funeral Home, Inc.
Services
Celebration of Life
Saturday, February 18, 2023
12:00 PM - 1:00 PM
East End Baptist Church
1056 Portsmouth Blvd
Suffolk, VA 23434
Get Directions on Google Maps
Graveside Service
Tuesday, February 28, 2023
1:00 PM - 4:00 PM
Carver Memorial Cemetery
2320 East Washington Street
Suffolk, Virginia 23434
Get Directions on Google Maps
Share this obituary