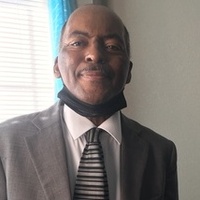 Willie L. "Peter" Wilkins, Jr.
August 10, 1958 - August 31, 2022
Willie L. "Peter" Wilkins, Jr., was born on August 10, 1958 to Dorothy L. Wilkins Woodley and the late Willie L. Wilkins, Sr. At the age of 64, he transitioned this life in his residence surrounded by family and went home to be with the Lord on August 31, 2022.
Peter attended East Suffolk Elementary School and was a 1977 graduate of John F. Kennedy High School. He later attended Tidewater Community College (TCC), where he received an Associates degree in Culinary Arts.
His hobbies included watching all types of sports and his favorite football team was the Philadelphia Eagles. His main hobby was cooking and selling steamed and fried crabs, as he carried on the family tradition.
Peter was predeceased by his father Willie L. Wilkins Sr. , his brother Joseph A. Wilkins , his maternal grandparents Leon Green Sr. and Lola Green ; paternal grandparents Maryland Wilkins Sr. and Mamie Wilkins; aunts Shirley Pugh and Ruth Hill; and uncles Maryland Wilkins Jr. and David Green.
He is survived by a wife Beulah Wilkins ; 5 children, Tomika Hoffler (Antonio-deceased), Jovanda Mundon (Tracee), Derricca Beslow (Duane), Peter Felton, Swanson Boone (Danielle); 6 stepchildren; a loving devoted mother, Dorothy L. Wilkins Woodley; siblings, Loretta Wilkins (David), Melody Whitfield (Terence), and Maryland Wilkins (Vanessa); 4 aunts; Rose M. Carr (Milton), Joyce Wilkins, Barbara J. Wilkins, and Catherine Wilkins; 4 uncles, Edward Green (Eunice), Leon Green, Jr. (Yvonne), Robert Wilkins (Celestine) and Fletcher Pugh, II (Shirley-deceased); 22 grandchildren; 7 great grandchildren; and numerous nieces, nephews, cousins, and friends.
A celebration of life will be held 1:00 p.m. Wednesday, September 7, 2022 at Rising St. James P.H.C. He will be laid to rest in Holly Lawn Cemetery. Professional services with dignity have been entrusted to Crocker Funeral Home, Inc.
To send a flower arrangement or to plant trees in memory of Willie L. "Peter" Wilkins, Jr., please click here to visit our Sympathy Store.
Share this obituary